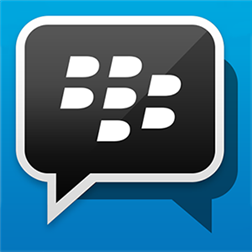 Description
BBM brings you together in the moment with friends and family through instant chats, picture sharing, voice notes and more. Download the official version of BBM now to start chatting with other BBM users on Windows Phone, iPhone, Android and BlackBerry.
SPONSORED

Note on V1: We're excited to offer BBM to Windows Phone users! V1 focuses on bringing the speed, privacy and security of BBM – loved by millions around the world – to chatting and sharing through 1:1, multiperson and BBM Group chats. We're already working hard on V2 where we'll introduce additional features to BBM for Windows Phone.
Chat with friends on Windows Phone, iPhone, Android and BlackBerry:
• Know when messages have been delivered (D's) and read (R's)
• Quickly share photos, voice notes, BBM contacts and your location
• See when contacts are responding to your message
• Emoticons for every mood and emotion let you express yourself
BBM, now specially designed for Windows Phone
• BBM picks up the modern look & feel of Windows Phone
• Pin BBM Groups and 1:1 chats to the Start screen for easy access to your most important chats
Chat and Share with many at once:
• Groups – BBM groups help you share pictures, lists and appointments with group members. You can even be in a group with people who aren't part of your own BBM contact list.
• Multi-person chats – Invite multiple contacts to have a chat together.
• Broadcast messages – Send a message to multiple BBM contacts at one time.
BBM lets you protect your privacy. You control it:
• You chose how to share your information – BBM uses PINs instead of phone numbers or email addresses so that it's more private and you always control who can contact you
• You chose your contacts – 2-way opt-in means you have control over who is able to message you
Create your own BBM profile:
• Post a profile picture using images or pictures
• Update your status to let people know what you're up to or how you feel
Download BBM for free today.
Bug fixes and performance improvements
Screenshots
Info
Publisher
BlackBerry Limited
Works with
Windows Phone 8.1
Windows Phone 8
App requires
contacts
phone identity
owner identity
video and still capture
location services
maps
music library
photos library
media playback
microphone
data services
phone dialer
push notification service
movement and directional sensor
VOIP calling
web browser component
HD720P (720×1280)
WVGA (480×800)
WXGA (768×1280)
Supported languages (37)
AfrikaansالعربيةCatalàčeštinadanskDeutschΕλληνικάEnglishEnglish (United States)Español (España, alfabetización internacional)euskarasuomiFilipinofrançaisgalegoעבריתहिंदीhrvatskimagyarBahasa Indonesiaitaliano日本語한국어Bahasa Melayunorsk (bokmål)Nederlandspolskiportuguês (Brasil)português (Portugal)românăрусскийsvenskaไทยTürkçeTiếng Việt中文(简体)中文(繁體)
SPONSORED