Description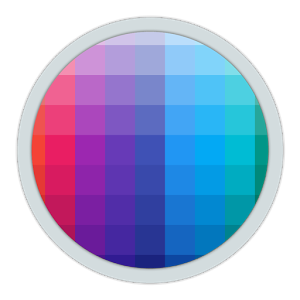 Pixolor is a circle floating over your apps showing a zoomed view of the underlying pixels, including color information and coordinates of the central pixel.This app is mainly for
designers
to know technical pixel-level information. It is also useful for people with poor eyesight who want to effortlessly zoom in on parts of the screen (e.g. to read text more easily).Requires Android Lollipop (5.0) or higher.
Note: For Xiaomi (MIUI) devices, please enable the overlay permission in the app's system settings.
Your iPhone friends will be jealous when they realise this technology is not possible on their devices 🙂
SPONSORED

Benefits:
★ Know the color code (RGB) or coordinates (DIP) of any pixel on the screen
★ Know the size (DIPs) of any region of the screen – before you release the circle you will see the x/y distance dragged
★ Know the nearest Material Design Color to the focus color
★ Study pixel arrangement
★ Share screenshot or circular image to another app (e.g. send by email) – long press on thumbnail
★ Enlarge hard-to-read text. Very handy for those with not so perfect eyesight
★ Generate color palette from latest screenshot or latest circular zoomed section
★ Share a cropped area of the screen – focus overlay on one corner, then drag overlay to opposite corner. You will see thumbnail of the dragged region in the main screen. Long-press to share the image!
Other features:
★ Pinch-to-zoom
★ Fine panning using two fingers (thereafter, free to release a finger)
★ Tap outside circle (bottom-left or top-right) to copy color RGB to clipboard
★ Hue Wheel color picker
★ Notification allowing you to: hide/show overlay; quit application; share latest color code with other apps
Please note: this app shows ads after an initial ad-free period. You have the option to disable ads by making a small one-time in-app payment. Thank you for your support.
Privacy:
★ Pixolor takes a single screenshot each time you place your finger on the circle. This is indicated by the brief appearance of the Chromecast status bar icon. When the Chromecast icon is not visible, you can be sure no app is reading the screen.
★ Captured screenshot data is never sent (in full or part) from your device or made available outside of the app. The only exception to this is when you explicitly share the image (long-press on thumbnail), in which case it will be shared in the way you request.
Screenshots
What's New
★ Fixed Remove Ads dialog
★ Fixed Nexus 6P right-edge bug
★ Minor Bug fixes
Permission
draw over other apps
view network connections
full network access
prevent device from sleeping
 Size: 2MB
Version: 1.0.4  
SPONSORED