Public Speaking for Cardboard
Description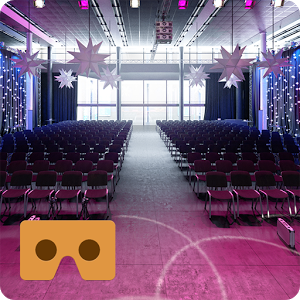 The VirtualSpeech app will help you practice for public speaking events, by providing a photo-realistic environment to train in. Works with Google Cardboard.
FEATURES
★
Animated Audience
– the audience move and behave as they would at a real event, adding to the level of distraction and recreating the fear of public speaking.
★
Stunning 360 3D Environments
– selection of high quality conference rooms to train your public speaking skills in. Currently both a large and small conference room are available.
★
Sound Distraction
– ambient sound in all conference rooms adds to the immersion and makes you feel like you are at the event.
★
Add Your Own Slides
– Add your slides into the virtual conference room so that you can practice for an upcoming event. A short video tutorial on how to do this can be found here:
https://youtu.be/OT_5u-GZWKw
ENVIRONMENTS
★ Large conference room set in San Jose, California, with 300+ capacity
★ Small meeting room located in Oxford, England, with 15+ capacity
SPONSORED

This app was developed to help people who want to practice and improve their public speaking skills, as well as anyone with a form of speech anxiety, social phobia, social anxiety disorder or phobia of public speaking. We will create environments in the future to help you in a wide range of situations.
What is Google Cardboard?
Google Cardboard is a low cost virtual reality platform which transforms a phone into a VR headset. Get your headset at https://www.google.com/get/cardboard/get-cardboard.html.
APP DEVELOPMENT
The app is still in early development and there are many things we need to improve to bring you the fully realistic public speaking environment to practice in. We are working on the following features:
★ Improving the audience realism, including eye contact in the smaller room.
★ Variety of new environments to practice your public speaking skills in.
★ Additional features such as recording your voice so you can play it back to yourself.
★ Wedding environment to practice your best man speech, groom speech, father of bride speech and many more.
★ Tips on public speaking, with tools to help you improve and overcome your fear of public speaking.
Twitter: https://twitter.com/vrspeech
Please contact us with any ideas of new features you would like to see in the future.
Screenshots
What's New
★ Fixed double vision some users were experiencing
★ Fixed scene crashing on trigger
★ Reduced app size
★ Bigger audience in large conference room
★ Users can add their own slides to the scene
Permission
Version 1.04 can access:
read the contents of your USB storage
modify or delete the contents of your USB storage
read the contents of your USB storage
modify or delete the contents of your USB storage
full network access
view network connections
control Near Field Communication
control vibration
Size: 47 MB
Version:1.0.4
SPONSORED