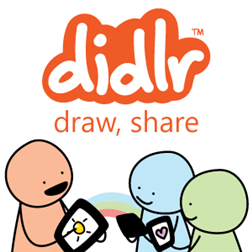 SPONSORED

Description
Didlr is everything everyone is drawing!
Draw on your phone's touchscreen, share with the world instantly.
Didls are cool! They play back just the way you drew them!
Draw anything. Draw what you see, draw how you feel. Draw stuff that inspires you & others. Use your amazing imagination & share with your friends.
Didls are easy to share in mobile apps and through your social networks, on email, SMS, instant messaging… However you want!
Connect with inspirational people.
Discover the best didls.
Share, star or reply to your favourites.
Stay on top of trends.
Don't just 'draw something', draw ANYTHING!
Screenshots
Info
Download size
2 MB
Works with
Windows Phone 8
Windows Phone 7.5
App requires
appointments
contacts
phone identity
owner identity
video and still capture
location services
media playback
microphone
data services
push notification service
movement and directional sensor
WVGA (480×800)
WXGA (768×1280)
camera
compass
HD720P (720×1280)
Supported languages (2)
EnglishEnglish (United States)
SPONSORED
More Free Games & Apps Downloads: