Description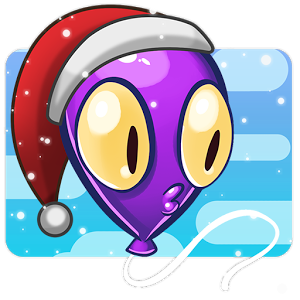 The Balloons are coming in the world's first endless floater!
Join our heroes Blue, Unicorn, Ghost, Frog and even Dead Bird and avoid obstacles like deadly spikes, dastardly dart shooters, and even flying ninja stars.
Collect as many coins as possible on your way to some seriously mind-blowing high scores. Aim for the stars or pop trying!
SPONSORED

# Simple tap-tap gameplay
# Lots of unlockable characters
# Cool secret level skins
# Slots style lottery system
# Special "Gifty Time" bonus rounds
# Stunning pixel art graphics
# Original theme music and sound FX
# Leaderboards for competitive gameplay
HINT: Unlock the coin character. He's super cool *wink*wink*
We really hope you enjoy our game. We certainly had a blast making it. Even if you didn't, we'd love to hear from you. Email us at [email protected]
Screenshots
 What's New
Deck the halls with SNOW! Tons of freaking SNOW!!!
Join Ol' Fat Nick and his band of Christmas misfits: Penguin, Snowy, Elffie and the incomparable Brodolph in this spectacular holiday update.
# 5 limited edition holiday balloons
# 4 normal but still awesome balloons
# 1 stunning Christmas level and a new holiday song
Fa la la la laaaaaaa, la la la POP!
Permission
Version 1.3 can access:
find accounts on the device
find accounts on the device
read phone status and identity
modify or delete the contents of your USB storage
read the contents of your USB storage
modify or delete the contents of your USB storage
read the contents of your USB storage
read phone status and identity
receive data from Internet
full network access
view network connections
Google Play license check
prevent device from sleeping
control vibration
Size: 35 MB
Version: 1.3 
SPONSORED