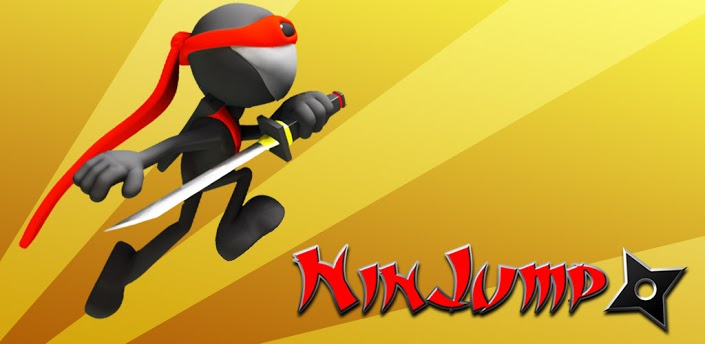 Description
"Yet another brilliant slice of freebie fun" -Pocket Gamer
"You really need to give Ninjump a try" -Touch Arcade
"Check out Ninjump, it's extremely fun" -148 Apps
"This is fast becoming one of my favorites" -The App EraRise to the top and become a ninja master in NINJUMP, the latest FREE game from Backflip Studios, makers of PAPER TOSS!
In this fast paced ninja climbing game, your goal is to rise as high as you can while avoiding killer squirrels, angry birds, enemy ninjas, throwing stars and exploding bombs. With a simple tap you can jump from one wall to the other, knocking obstacles from the air as you do. Take down three enemies of the same kind to trigger mega-jump bonuses. Collect shields to plow through your opponents with. Just watch out for ledges and other ninjas because they will knock you off and send you to your doom!
You will be amazed by the gorgeous graphics, rich gameplay, immersive music and the insanely addictive quality of this game.
Features include:
-Simple single-tap gameplay
-Ninjas
-Killer squirrels
-More ninjas
-Beautiful graphics
-Awesome bonuses
-Original sound and music
-Papaya Leaderboards
-Challenge a friend via email
-Post scores on Facebook or Twitter
At Backflip Studios making fun games is priority one! We have seen over 34,000,000 downloads across our library of games and greatly value your support and feedback.
SPONSORED

Try PAPER TOSS our other hit FREE game!
Follow us on twitter: @backflipstudios
Thanks for playing!
App Screenshots
Videos
What's New
What's in this version:
Bug fixes and optimizations.
Permissions
THIS APPLICATION HAS ACCESS TO THE FOLLOWING:
YOUR LOCATION

APPROXIMATE LOCATION (NETWORK-BASED)

Allows the app to get your approximate location. This location is derived by location services using network location sources such as cell towers and Wi-Fi. These location services must be turned on and available to your device for the app to use them. Apps may use this to determine approximately where you are.

NETWORK COMMUNICATION

FULL NETWORK ACCESS

Allows the app to create network sockets and use custom network protocols. The browser and other applications provide means to send data to the internet, so this permission is not required to send data to the internet.

PHONE CALLS

READ PHONE STATUS AND IDENTITY

Allows the app to access the phone features of the device. This permission allows the app to determine the phone number and device IDs, whether a call is active, and the remote number connected by a call.

STORAGE

MODIFY OR DELETE THE CONTENTS OF YOUR USB STORAGE

Allows the app to write to the USB storage.
NETWORK COMMUNICATION

VIEW WI-FI CONNECTIONS

Allows the app to view information about Wi-Fi networking, such as whether Wi-Fi is enabled and name of connected Wi-Fi devices.

VIEW NETWORK CONNECTIONS

Allows the app to view information about network connections such as which networks exist and are connected.

SYSTEM TOOLS

TEST ACCESS TO PROTECTED STORAGE

Allows the app to test a permission for USB storage that will be available on future devices.
VERSION:2.0.0
SIZE:16M
SPONSORED