Description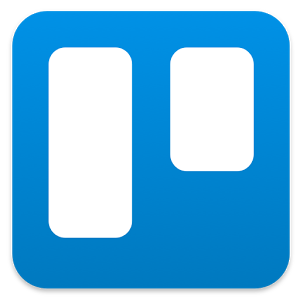 Trello gives you perspective over all your projects, at work and at home.Whether it's managing a team, writing an epic screenplay, or just making a grocery list, Trello is your sidekick for getting things done and staying organized.
With Trello you can:
• Create boards to organize anything you're working on.
• Use them solo or invite coworkers, friends and family to collaborate.
• Customize workflows for different projects
• Add checklists of "To-Dos" on cards
• Assign tasks to yourself and coworkers
• Comment on items with your friends
• Attach files from Google Drive and Dropbox
• Upload photos and videos
• Reply to comments and create cards from Android Wear
SPONSORED

Trello is free to use forever.
"Trello is one of those few apps that actually balances both a simple, elegant user interface and powerful, flexible features." – Lifehacker
Screenshots
What's New
Trello is now available in 16 new languages!
By "new" we mean "new to Trello." We don't want you to think we made up these languages. Give credit where credit is due – some of these languages have been around for millennia!
(For the record, the only language we've created is Kall'teth, spoken by the Kalls in our fantasy spinoff book "Lord of the Cards: Trelloship of the Ring.")
We've also improved search, added quick reply to notifications, and started hiding completed checkitems.
Permission
Version 3.6.0.1480 can access:
find accounts on the device
add or remove accounts
find accounts on the device
read the contents of your USB storage
read the contents of your USB storage
receive data from Internet
full network access
control vibration
view network connections
prevent device from sleeping
read sync settings
toggle sync on and off
use accounts on the device
create accounts and set passwords
Size: 15 MB
Version: 3.6.0.1480
SPONSORED