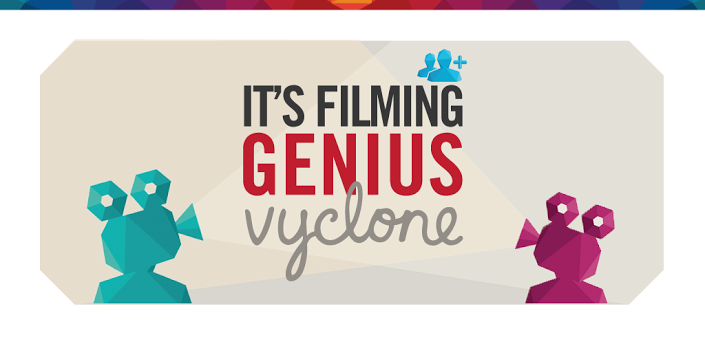 Description
Just shoot something with your friends; Vyclone does the rest. In a few moments it synchronizes and edits everyone's clips to create one movie with all the angles cut together."Vyclone is seriously one of the coolest apps I've ever tried out." – TechCrunch"Vyclone is the Collaborative Video App We've Been Waiting For." – PandoDaily
"An almost instant multi-angle video of an event that you'll swear was created by a professional video editor." -Mashable
"It's the most disruptive, fascinating, troubling, creative, delicious, innovation I've seen in years. This is a game-changer." – MediaBizTech
"Within a few minutes, Vyclone mashes the videos together and spits out an equal-length clip using all of the different angles." – Business Insider
It's filming genius!
App Screenshots

SPONSORED

Videos
What's New
What's in this version:
1.0.668
– Various crash bugs fixed
1.0.664
– new intro flow with fancy images and a nice little story about Vyclone
– you can now edit your profile – that's your avatar and your screen name.
1.0.663
– Facebook login
– ability to see progress of uploading
– New search including the ability to search for users when logged in.
– New UI features
– You can now see the user profiles
– New camera UI
Permissions
THIS APPLICATION HAS ACCESS TO THE FOLLOWING:
YOUR LOCATION

PRECISE LOCATION (GPS AND NETWORK-BASED)

Allows the app to get your precise location using the Global Positioning System (GPS) or network location sources such as cell towers and Wi-Fi. These location services must be turned on and available to your device for the app to use them. Apps may use this to determine where you are, and may consume additional battery power.

NETWORK COMMUNICATION

FULL NETWORK ACCESS

Allows the app to create network sockets and use custom network protocols. The browser and other applications provide means to send data to the internet, so this permission is not required to send data to the internet.

STORAGE

MODIFY OR DELETE THE CONTENTS OF YOUR USB STORAGE

Allows the app to write to the USB storage.

CAMERA

TAKE PICTURES AND VIDEOS

Allows the app to take pictures and videos with the camera. This permission allows the app to use the camera at any time without your confirmation.

MICROPHONE

RECORD AUDIO

record audio
YOUR ACCOUNTS

FIND ACCOUNTS ON THE DEVICE

Allows the app to get the list of accounts known by the device. This may include any accounts created by applications you have installed.

NETWORK COMMUNICATION

VIEW NETWORK CONNECTIONS

Allows the app to view information about network connections such as which networks exist and are connected.

RECEIVE DATA FROM INTERNET

Allows apps to accept cloud to device messages sent by the app's service. Using this service will incur data usage. Malicious apps could cause excess data usage.

SYSTEM TOOLS

TEST ACCESS TO PROTECTED STORAGE

Allows the app to test a permission for USB storage that will be available on future devices.

AFFECTS BATTERY

PREVENT DEVICE FROM SLEEPING

Allows the app to prevent the device from going to sleep.
VERSION:1.0.668
SIZE:5.4M

SPONSORED