Description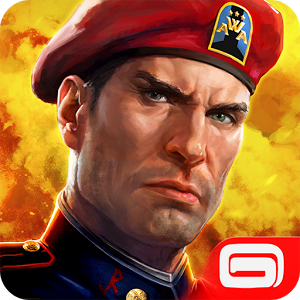 In this free-to-play all-out modern-war strategy game, you will battle across the globe, in the sea's depths, on the ground, and in the air, following a deep solo campaign and fighting in an exciting multiplayer mode. Take advantage of the rich social features to find allies and chat to devise a cunning battle plan, for free! Join or create your own Faction to combine forces! Make your name known on the leaderboards by challenging rivals and stealing their resources and by becoming the best player in this immersive game!
SPONSORED

√ A free war simulation game with brilliant graphics, stunning animations, and realistic units & buildings
√ Collect resources, build, upgrade, and fuse units, construct facilities, and complete numerous achievements to earn free bonuses
√ Engage in innovative battles across the globe and on various terrains (desert, urban, underwater & more)
√ Immerse yourself with the only modern-war strategy game on the market that offers deep-sea exploration and battles!
√ Construct the new super unit, Atlas, and use it as a game-changer in battle!
√ Join Factions with other players or form your own to wage war, dominate, and win rewards
√ Connect with your friends via Facebook and borrow their units during battle
World at Arms is suitable for fans of strategy games, modern warfare games, tank games, submarine games and tycoon games. Download World at Arms for free and enjoy probably the best modern-war strategy game on the market!
Screenshots
What's New
Breach the Enemy's Tower Defenses in the all-new Faction game mode!
– Establish a new Base together with your Faction
– Unveil the Fog of War, claim Points of Interest and collect a new Faction Resource
– Build and Upgrade new Faction buildings
– Deploy Turrets to protect your Command Center
– Breach the Enemy Base with new Faction Units and Power-Ups
– Unleash the massive Jotunn to crash through even the toughest defenses
– Loot Enemy Faction Enhancements and use them to boost your PvP units
Permission
This app has access to:
read your Web bookmarks and history
find accounts on the device
find accounts on the device
approximate location (network-based)
read phone status and identity
modify or delete the contents of your USB storage
read the contents of your USB storage
modify or delete the contents of your USB storage
read the contents of your USB storage
read phone status and identity
receive data from Internet
control vibration
run at startup
prevent device from sleeping
view network connections
full network access
Size: 33 MB
Version:3.0
SPONSORED