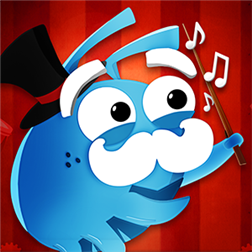 Description
Conduct Maestro Piccolo's FLEA SYMPHONY and save their beloved music shop. BOUNCE the fleas on drums, LAUNCH them off guitar strings, and SHOOT them out of tuba cannons as you create the perfect musical piece to keep customers coming back. To save their shop and their home, Maestro Piccolo and his Flea Symphony must put on the show of a lifetime!
Features include:
SPONSORED

• Solve Challenging Musical Puzzles – Many songs can emanate from the Flea powered musical machines, but only one is the perfect piece. Can you create the perfect musical piece?
• Create Magnificent Music Machines – Fine-tune your magical music machines to reveal the Flea Symphony's hidden world of music
• 6 Fantastical Worlds – Master 5 musical styles and themes including Woodwinds, Brasses, and Turntables (Don't forget to drop the bass)!
• Over 100 Levels!
Contact Majesco Entertainment:
Facebook: http://www.facebook.com/FleaSymphony
Twitter: @FleaSymphony
Web: http://www.fleasymphony.com
Thanks for downloading and please don't forget to rate our game.
Screenshots
Info
Publisher
Majesco Entertainment
App requires
phone identity
owner identity
media playback
data services
movement and directional sensor
HD720P (720×1280)
WVGA (480×800)
WXGA (768×1280)
Supported languages (2)
EnglishEnglish (United States)
SPONSORED