Description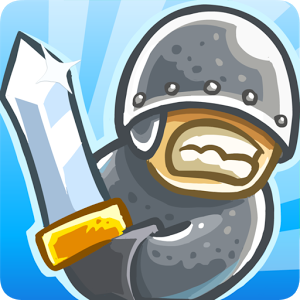 The acclaimed action fantasy defense game is now available on Android for Phones and Tablets! Get ready for an epic journey to defend your kingdom against hordes of orcs, trolls, evil wizards and other nasty fiends using a vast arsenal of towers and spells at your command!
Fight on forests, mountains and wastelands, customizing your defensive strategy with different tower upgrades and specializations! Rain fire upon your enemies, summon reinforcements, command your troops, recruit elven warriors and face legendary monsters on a quest to save the Kingdom from the forces of darkness!
GAME FEATURES:
★ Epic defense battles that will hook you for hours!
★ Command your soldiers and see them engage in hand to hand cartoon battles!
SPONSORED

★ 8 specialized tower upgrades to customize your strategy! Mighty Barbarians, Arcane Wizards, Forest Rangers to name a few.
★ Over 18 tower abilities! Have your Sorcerers summon earth elementals and polymorph your enemies!
★ Over 50 different enemies, from Goblins to Demons each with their own skills! (Beware of the mountain Trolls!)
★ 9 Heroes: Choose your champion to lead your troops to victory!
★ Intense boss fights never seen on a defense game!
★ Hours of gameplay with over 60 achievements
★ Extra game modes that will challenge your tactical skills to the limit.
★ High definition awesome illustrated cartoon art!
★ In-game encyclopedia with information from your towers and enemies.
★ Optimized for Android Phones and Tablets!
HEARD ON THE MEDIA:
89/100 Metacritic score!
"Probably the best true tower defense game. It's funny, it's polished, and it's hard as balls. "
– IGN (Editor's choice 9/10 "Amazing")
"One of the most engaging TD games we've played…"
-Slidetoplay.com (STP Score of 4 out of 4 "Must Have")
"Kingdom Rush can be filed in the thin folder marked "games that are pretty much perfect"
-JayisGames.com
"This is one kingdom you'll be in no rush to escape from"
-PocketGamer (Gold Award – Score 9)
"Kingdom Rush proves that the defense genre is still alive."
-148Apps (4.5 Stars out of 5) Editor's Choice
"TD with a Touch of Excellence"
-toucharcade.com (4.5 stars out of 5)
#8 at CNET's Top 30 Tablet games.
#7 at IGN's Top 25 Mobile games.
Screenshots
What's New
Fixes Cyanogenmod random crashes.
Permission
Version 2.6.5 can access:
modify or delete the contents of your USB storage
read the contents of your USB storage
modify or delete the contents of your USB storage
read the contents of your USB storage
control vibration
view network connections
prevent device from sleeping
full network access
Google Play license check
Size: 28 MB
Version: 2.6.5
SPONSORED