Galaxy on Fire™ – Alliances
Description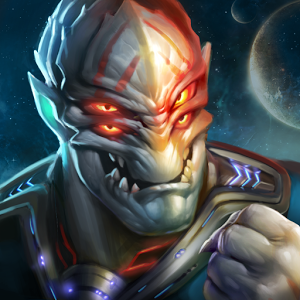 [ Wormholes open. Conquerors appear. Planets fall. The Shroud Nebula is about to be seized and raided. And only YOU can stop it. Team up with longtime allies and old enemies alike to face the ruthless invaders, steal their rare treasures and build their superior carriers! Save the galaxy from the tyranny of the Voids! ]
# # # THE MOBILE STRATEGY MMO # # #
Galaxy on Fire – Alliances puts you in the role of an up-and-coming Commander of the Terrans, Nivelians or Vossk. Determined to claim and conquer a hitherto uncharted part of the galaxy known as the Shroud Nebula, you will set out to seek fame and fortune beyond the final frontier.
# # # BAND TOGETHER AND RISE AS ONE # # #
Forge a strong alliance and assist one another in the epic pursuit of space domination. Trade resources, exchange intelligence reports and conceive conjoined attack strategies and defense plans. Show your enemies the power of allegiance and prevail in epic space battles with dozens of participants!
# # # A UNIQUE GAMING EXPERIENCE # # #
• The first Multiplayer Game set in the GOF universe
• Easy-to-access Alliance and PvP gameplay
• Specifically designed for Mobile Use on Touch Devices
• High-end 3D Graphics and spectacular SFX
• A whole Universe in Pocket Size
SPONSORED

# # # TRUST THE MEDIA # # #
With high-end 3D graphics and captivating co-op gameplay, Galaxy on Fire – Alliances sets new standards for sci-fi strategy MMOs on smartphones and tablets. And the press loves it, claiming that it marks "a potentially rich source of war stories" (Modojo) that "will very clearly be raising the bar for these types of games" (iMore).
# # # LINKS AND RESSOURCES # # #
Here's a number of essential sources and places-to-go for avid GOFA players. Check them out and get in touch with the Deep Silver FISHLABS staff as well as thousands of other Commanders!
Screenshots
What's New
# # # FEATURES # # #
CARRIER GROUPING: Organize your fleet like never before
# # # PERFORMANCE # # #
Fixed various performance and stability issues
Minor bug fixes and enhancements
Permission
This app has access to:
find accounts on the device
find accounts on the device
read phone status and identity
modify or delete the contents of your USB storage
read the contents of your USB storage
modify or delete the contents of your USB storage
read the contents of your USB storage
read phone status and identity
receive data from Internet
prevent device from sleeping
view network connections
change your audio settings
full network access
Google Play license check
Size: 24 MB
Version: 1.15.0
SPONSORED