Description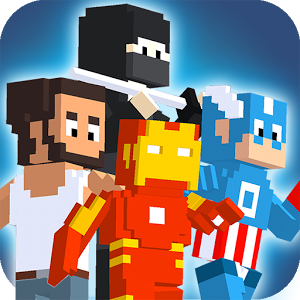 Suit up with the Avengers of Hopopolis!
▪ Compete with friends for highest online score!
▪ Hop across the road in serious super hero style!
▪ Dynamically created levels (never play the same thing twice!)
▪ Challenging scenarios!
▪ Awesome roster of cool Heroes with incredible powers!
▪ Unique attack abilities!
▪ A variety of challenging AI Enemies!
▪ Enemy soldiers hop freely to close in on your hero!
▪ Seriously Fun obstacles!
▪ Tons of funny characters!
▪ Hilarious character demises!
▪ Share photos of your best moments!
Welcome to the world's most heroic endless road crossing game!
Super challenging, but fun for any age!
*** Extreme Road Crossing ***
This game packs tons of the things you've come to love about road crossing games but ups the ante x 2! Crossy Heroes brings the road crossing genre to the next level! You'll marvel at the diverse challenges. There are cars, road, rivers and logs, but now throw in sentry turrets, pistols, bombs, force fields, enemy bases, heroes shooting special powers and cities crawling with armed, free-roaming, gun shooting enemy soldiers!
SPONSORED

*** The Age of Heroes ***
It's the age of super heroes! No super villain would be so bold as to threaten the world when there are such powerful heroes to defend here. Or would they? The evil soldiers of Ultron Corp have their eye on hostile takeover! Their soldiers have swarmed the streets and towns, setting up heavily fortified bases and road blocks, shooting anyone who crosses them! Unlock all of the Avengers of Hopopolis to defeat the Ultron Corp threat!
*** Compete with Friends ***
Compete with your friends online for the highest score and prove that you are the greatest Hero of them all. Check your score regularly and improve your game. Show your friends who the real hero is. Climb to the top of the online Google Play leaderboard and let them marvel at your greatness. As you level up and improve your team you'll become unstoppable!
*** Funny Characters ***
There are tons of funny characters to unlock! Each hero has their own unique ability. Each time you play your character will gain Experience Points moving you from level 1 to 2 to 3 and so on. Levelling up will unlock new characters with new abilities. Unlock all characters to complete the Avengers of Hopopolis team!
This is a super fun, lovingly crafted game. And best of all it's totally free!
Welcome to the world's crossy-est action super hero game!
Screenshots
What's New
Movement control fix for devices with a high DPI screen.
Toxic monsters made less frequent.
Permission
Version 1.0.5 can access:
find accounts on the device
find accounts on the device
read phone status and identity
modify or delete the contents of your USB storage
read the contents of your USB storage
modify or delete the contents of your USB storage
read the contents of your USB storage
read phone status and identity
receive data from Internet
full network access
view network connections
prevent device from sleeping
control vibration
Google Play license check
Size: 32 MB
Version: 1.0.5
SPONSORED