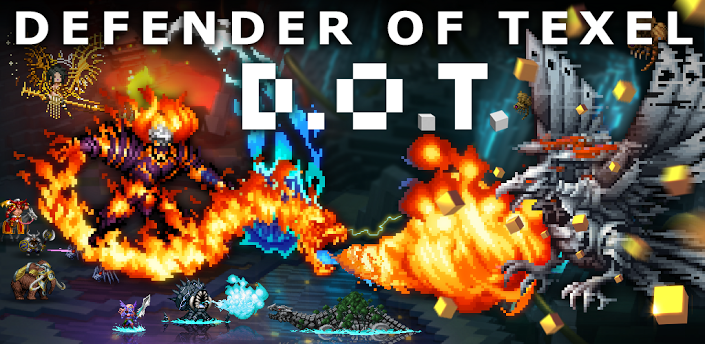 Description
Join the 1M+ players already defending Texel!★★★★★Limited-time offer: Start the game now to receive a special warrior from a past event! Players will also receive $3 worth of items absolutely free.
SPONSORED

In a world of squares, somebody needs to think outside the box…
A high-fantasy adventure with a twist, "D.O.T." is set in Texel, an 8-bit retro universe in dire need of a champion. In this exciting new RPG from Mobage, the player is transported through a mobile game into a world that has no concept of death or war, and is being torn apart by sinister robotic invaders. Only your skills as a commander can save the three tribes of Texel, and open the portal back to your own reality.
★ Unique graphics that combine 2D pixel and 3D block art with dazzling effects
★ Characters that transform through fusion
★ Power-ups through character and gear customization
★ An epic story set in a distant universe, with the musical score to match!
★ New characters and areas, continuously added in always-free updates!
★ Intuitive battle formations, created with grid-based swipe action!
What Others Are Saying About D.O.T.
★★★★★ "…D.O.T Defender of Texel is good fun, easy to pick up and play during a quiet moment, and looks pretty fantastic. It offers a fun, casual RPG-style game that's free to download and play on either Android or iOS…" —Rob LeFebvre
★★★★★ "A great RPG with a very clever fight system, 8 bit style graphics, and audio. All in all very good…" —Andy Smith
★★★★★ "Anyone who likes 8-bit game, this game is for you. It features all kinds of things that make you want to keep playing!" —Izaak Anderson
★★★★★ "8-bit, smart fight system, magic, sci-fi, and more – it is the most fun RPG on an Android device!" —Almozayaf Roman
*Connect with other gamers on Facebook at http://www.facebook.com/DefenderofTexel. Check out more games at www.mobage.com, and follow us @Mobage on Twitter to get the latest news, deals, and help on our games.
App Screenshots
Videos
What's New
What's in this version:
We made things better! We fixed some bugs and tweaked some things to run more smoothly. Let us know how your play experience has improved or if we missed something you want. Please find Mobage on Facebook or Twitter to give feedback!
Permissions
THIS APPLICATION HAS ACCESS TO THE FOLLOWING:
YOUR ACCOUNTS

USE ACCOUNTS ON THE DEVICE

Allows the app to request authentication tokens.

NETWORK COMMUNICATION

FULL NETWORK ACCESS

Allows the app to create network sockets and use custom network protocols. The browser and other applications provide means to send data to the internet, so this permission is not required to send data to the internet.

PHONE CALLS

READ PHONE STATUS AND IDENTITY

Allows the app to access the phone features of the device. This permission allows the app to determine the phone number and device IDs, whether a call is active, and the remote number connected by a call.

STORAGE

MODIFY OR DELETE THE CONTENTS OF YOUR USB STORAGE

Allows the app to write to the USB storage.

SYSTEM TOOLS

RETRIEVE RUNNING APPS

Allows the app to retrieve information about currently and recently running tasks. This may allow the app to discover information about which applications are used on the device.
YOUR ACCOUNTS

FIND ACCOUNTS ON THE DEVICE

Allows the app to get the list of accounts known by the device. This may include any accounts created by applications you have installed.

HARDWARE CONTROLS

CONTROL VIBRATION

Allows the app to control the vibrator.

NETWORK COMMUNICATION

RECEIVE DATA FROM INTERNET

Allows apps to accept cloud to device messages sent by the app's service. Using this service will incur data usage. Malicious apps could cause excess data usage.

VIEW WI-FI CONNECTIONS

Allows the app to view information about Wi-Fi networking, such as whether Wi-Fi is enabled and name of connected Wi-Fi devices.

VIEW NETWORK CONNECTIONS

Allows the app to view information about network connections such as which networks exist and are connected.

SYSTEM TOOLS

MODIFY SYSTEM SETTINGS

Allows the app to modify the system's settings data. Malicious apps may corrupt your system's configuration.

TEST ACCESS TO PROTECTED STORAGE

Allows the app to test a permission for USB storage that will be available on future devices.
VERSION:2.1.0
SIZE:13M
SPONSORED