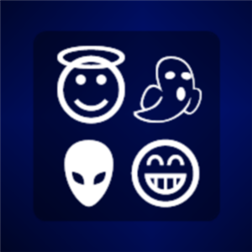 SPONSORED

Description
The easiest to use Metro style emojicons composer with the largest (1200+) collection of emoji! Comes with a see-through mode, so that you can keep an eye on the road while walking and texting.
Features:
♥ 1200+ emojicons
♥ Metro style categorized emoji picker
♥ See through mode for walking and texting
♥ Send as SMS
♥ Copy to clipboard
What's new in Version 1.2
• Landscape mode support
• Performance Improvements
• Improved support for different resolutions (WP8)
NOTE: A Pro version is also available without advertisements. Purchase it to get rid of ads and help support development.
Emojicons are supported by all Windows Phones, iPhones and some of the Android devices.
Warning: Many of the old generation smartphones and other phones may not be able to show these emojicons.
Visit us online at http://kunruchcreations.com for tips and tricks and more.
Screenshots
Info
Download size
1 MB
Works with
Windows Phone 8
Windows Phone 7.5
App requires
phone identity
owner identity
video and still capture
photo, music, and video libraries
data services
movement and directional sensor
camera
HD720P (720×1280)
WVGA (480×800)
WXGA (768×1280)
SPONSORED
More Free Games & Apps Downloads: