DINO HUNTER: DEADLY SHORES
Description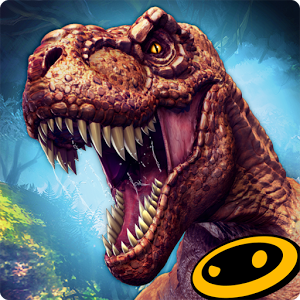 Hunt or be hunted! Embark on the dinosaur hunting expedition of a lifetime to kill the ultimate game in Dino Hunter: Deadly Shores.
HUNT DINOSAURS
Journey to a hidden, untouched Jurassic island and kill the most ferocious animals in history. Encounter Jurassic beasts long thought extinct, from the docile stegosaurus to the terrifying T. rex.
VISIT EXOTIC Jurassic LOCATIONS
Kill dinosaurs in lush and dangerous Jurassic environments like the shipwreck-strewn coast, overgrown jungle and dinosaur boneyard!
EQUIP POWERFUL WEAPONS
Load up on firepower with destructive weapons like the rocket launcher and shuriken crossbow. You'll need a powerful arsenal and an expert shooter strategy to kill these dinosaurs!
MASTER A UNIQUE SHOOTER CHALLENGE SERIES
Progress through varied shooter series to win rifles, shotguns and assault rifles. Make your kills and complete them all for even greater rewards!
EXPERIENCE AMAZING GRAPHICS
Dynamic shadows, hi-res textures and realistic Jurassic models all combine to make this one of the most beautiful dinosaur shooter games on your mobile device!
High-end, immersive tablet gameplay!
"It's as if Glu Mobile was listening in on my mind as I imagined how good Deer Hunter 2014 would be with dinosaurs." – Kotaku
"… I am totally, absolutely, 100% completely behind blasting dinosaurs with guns until they explode, and happily that's exactly what Dino Hunter: Deadly Shores will let you do." – AppSpy
SPONSORED

"Dino Hunter: Deadly Shores dishes up tons of behemoth-shooting action. It's an easy game to enjoy." – Gamezebo
"Dino Hunter: Deadly Shores is a solid shooter. The dinosaurs in the game are very well detailed and the game allows you to jump right in…" – Modojo
Dino Hunter: Deadly Shores is free to play shooter, but you can choose to pay real money for some extra items.
Use of this application is governed by Glu Mobile's Terms of Use. Collection and use of personal data are subject to Glu Mobile's Privacy Policy. Both policies are available at www.glu.com. Additional terms may also apply
Screenshots
What's New
New Update!
▶ New currency – Crystals! Earn by participating in special events or missions then spend them on new guns and upgrades!
▶ Bug fixes and other improvements to game performance
Thanks for playing!
Permission
Version 1.3.5 can access:
find accounts on the device
find accounts on the device
approximate location (network-based)
read phone status and identity
modify or delete the contents of your USB storage
read the contents of your USB storage
modify or delete the contents of your USB storage
read the contents of your USB storage
read phone status and identity
full network access
view network connections
control vibration
run at startup
Google Play license check
prevent device from sleeping
Size: 48 MB
Version: 1.3.5
SPONSORED