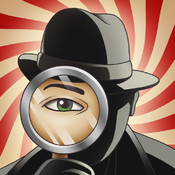 Description
Run your own detective business in this hard-boiled game
of mind-bending puzzles and forbidden candies.
Become a famous detective and get to the bottom of a curious candy conspiracy in Another Case Solved, the latest game from the makers of Puzzle Craft.
Trailer: https://vimeo.com/81608457
This city is clamping down on candy cravings by outlawing sweet snacks! Solve a series of quirky cases by gathering clues, tracking down witnesses, and questioning suspects to reveal the truth behind this city's sugarcoated secret.
This is a case too sweet to turn down!
SPONSORED

Awesome Features:
• Create your own personalized detective and customize their look with outfits, props, and more.
• Match clues, identify suspects, track down hidden items – Another Case Solved features multiple styles of gameplay to keep detectives on their toes.
• Tons of story-driven cases to keep you hooked into this sugary sweet mystery.
• Take on minor cases in your spare time to keep yourself in business
• Transform your humble office into a vibrant workplace with new furniture that will increase your detective skills
Screenshots
Info
Works with
Windows Phone 8.1
Windows Phone 8
App requires
music library
media playback
data services
movement and directional sensor
web browser component
HD720P (720×1280)
WVGA (480×800)
WXGA (768×1280)
Supported languages (2)
English (United States)polski
SPONSORED