Description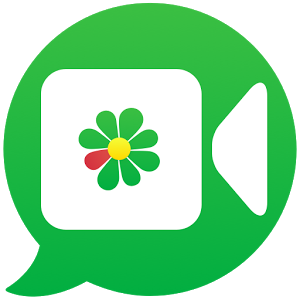 Messenger with free video calls and voice calls of excellent quality
Unlimited group chat with friends and family or anyone else, without sharing your phone number
Message sync across all of your devices
★ Video calls with HD video quality and lowest data usage
★ Free international calls via 3G, 4G, LTE and Wifi
★ Free texting in ICQ and free SMS to other contacts
★ Hundreds of free Stickers and smileys available now and forever
★ Photo and video messages, fast and free. Forget about MMS
★ Group chat with unlimited number of contacts
★ Entire chat history available at any time across all of your devices
SPONSORED

Screenshots
What's New
Fastest Capture – Tap! Snap! The easiest way to make short video or selfie.
Data saving mode for video calls! Mobile data usage is 8 times less!
Instant voice messeges. Now it's faster than before!
Browse and search for your favorite pics to send to your friends straight from ICQ.
Permission
This app has access to:
read your own contact card
add or remove accounts
find accounts on the device
find accounts on the device
read your contacts
modify your contacts
approximate location (network-based)
read your text messages (SMS or MMS)
receive text messages (SMS)
read phone status and identity
read call log
modify or delete the contents of your USB storage
read the contents of your USB storage
modify or delete the contents of your USB storage
read the contents of your USB storage
read phone status and identity
receive data from Internet
read Home settings and shortcuts
write Home settings and shortcuts
control vibration
install shortcuts
run at startup
disable your screen lock
pair with Bluetooth devices
read sync settings
send sticky broadcast
connect and disconnect from Wi-Fi
create accounts and set passwords
toggle sync on and off
prevent device from sleeping
view network connections
change your audio settings
full network access
uninstall shortcuts
Size: 12 MB
Version: 6.7
SPONSORED