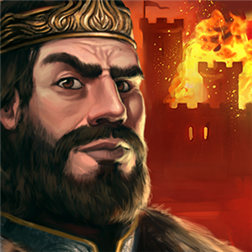 Description
"This game is the reason I no longer have friends. And it's worth it! So fun!" (Markad11, Canada)
Start out as a young regent of a single city, and go on to build an unbeatable kingdom! Dominate the battlefields, pillage enemy cities. And form a mighty alliance as you compete with thousands of other Players on a gigantic map to answer one question: Who will be the King of Kings? Prove your cunning and bravery in THRONE WARS, the brand new medieval building game.
SPONSORED

===== More User reviews =====
"Very fun game." (gankmobile, Canada)
"very addictive" (Nico250595, Ireland)
"Fantastic! Only game I play" (17373gghdd, Canada)
===== What you do =====
● Gather your friends into a powerful clan and dominate the leaderboard
● Grow your city to a formidable economic power
● Recruit powerful heroes as generals and governors
● Build a commanding army to fight against other Players
● Found new cities and expand across the realm
● Learn to rule the realm in easy to play tutorial missions
● Raze your neighbors to the ground and plunder their wealth
● Research new technologies, build ever more powerful weapons
● Play with thousands upon thousands of other players on a gigantic map
Download this game for free and start your own kingdom right now!
===== Note =====
This game requires an internet connection to play and offers in-app purchases.
===== more about flaregames =====
http://www.flaregames.com • http://facebook.com/flaregames • http://twitter.com/flaregames
Screenshots
Info
Download size
41 MB
App requires
media playback
data services
push notification service
movement and directional sensor
HD720P (720×1280)
WVGA (480×800)
WXGA (768×1280)
Supported languages (14)
DeutschEnglishespañolfrançaisBahasa Indonesiaitaliano日本語한국어Bahasa Melayuportuguês (Brasil)русскийTürkçe中文(简体)中文(繁體)
SPONSORED