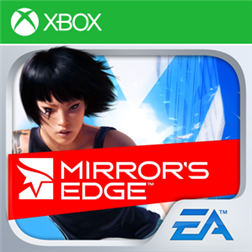 ENTER THE WORLD OF MIRROR'S EDGE
Immerse yourself in the world of Faith Connors – an underground "Runner" who must bolt into action to stop a deadly threat in a "perfect society" full of sinister surveillance and relentless pursuers.
SPONSORED

ONCE YOU BECOME A RUNNER, THERE'S NO LOOKING BACK
Run up walls, slide down ramps, ride zip lines, and hurdle between rooftops as you burn through 14 levels of increasing intensity. Think fast on your feet, engage in furious hand-to-hand combat, elude your enemies, and push yourself to the very edge.
CHALLENGE YOUR FRIENDS
Upload your best scores to the Xbox Live Leaderboards so your Xbox Live friends can compete against you.
EXPERIENCE THE VISUAL POWER
Absorb the breathtaking graphics as you pound through a stunning cityscape flooded with realistic sounds, a pulsating soundtrack, and dynamic camera angles. You've never seen or felt a game quite like this.
Publisher
Electronic Arts
Content rating
TEEN
Works with
Windows Phone 8
Windows Phone 7.5
App

requires
Xbox

photo

, music, and video libraries

data

services

movement

and directional sensor
HD720P (720×1280)
WVGA (480×800)
WXGA (768×1280
Supported languages (14)
DeutschEnglishEspañolEspañol (España, alfabetización internacional)françaisitaliano日本語한국어polskiportuguês (Brasil)português (Portugal)русский中文(简体)中文(繁體)
SPONSORED