Pedometer & Weight Loss Coach
Description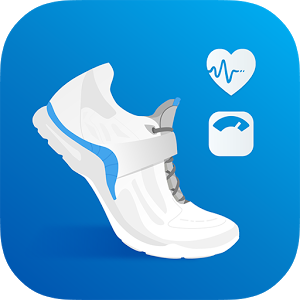 "Pedometer & Weight Loss Coach" syncs steps and calories with MyFitnessPal
Hear what some of our users are saying:
"Really like this highly addictive app…" ~Sparky731
"Best app I've ever used helping me lose a few pounds a week…" ~Gerryofkellys
SPONSORED

"…I'm just grateful to this app for being a major catalyst to my health and fitness transformation… …my husband and I have lost well over 100lbs" ~LaToya M
"…I've lost 20 lbs in the last 3 months by just trying to beat my walking distance daily at work. I love the daily goal. Cheaper and better than a gym membership and a 1000x's more effective!" ~Covette92
"Better than FitBit " ~AJP-1963
How it works:
-Just download and open. Our app tracks your steps for you as long as your phone is with you
-Check all your history from the 'Trends' Tab
-Support and encourage friends from the 'Groups' Tab
-Track your weight from the 'Me' tab
Some tips to ensure accuracy:
1. Visit "Pedometer Preferences" and adjust Pedometer mode if the step counter is not accurately recording your steps
2. If you use cleaning tools, add our app to the "ignore" list so that the step counter doesn't get shut down
3. Everyone is different, so be sure to adjust the step counter sensitivity if needed
Important Note:
Some phones simply cannot count steps if the screen is off or locked. We do our best to ensure that we support as many phones as possible, but if you do encounter this problem and the above steps don't work, it might be a limitation of your device. Drop us a message at our support e-mail, and we'll do our best to help.
Get Started Right Away for Free
-No wristband or other hardware required. Our pedometer works entirely from your phone with no additional setup
-No website login, just download for free and start tracking your exercise right away
Track All Your Fitness Activity
-Built-in pedometer tracks your steps all day long whether your phone is in your hand, in your pocket, in your jacket, on an armband or in your purse
-Records steps, calories, distance and active time whether you enjoy walking, jogging or running
-Give your exercise a boost by using GPS to track your outdoor running, walking and biking on a map
-Great companion for Quantified Self
Lose Weight & Get Fit
-Track your weight and BMI over time and correlate changes with your activity and other vitals
-Perfect companion to MyFitnessPal. Pacer syncs all your activity data to MyFitnessPal to create the ultimate weight loss tool
-Activity tracking works great as a complement to any diet
Stay Motivated with Family & Friends
-Create walking groups with your friends and family to compare daily steps in real-time
-Connect with friends trying to lose wait or get fit and keep each other accountable
Create Healthy Habits
-One-tap tools for building daily healthy habits and achieving goals
Other Key Features:
-The easiest to use pedometer for any phone
-Accurate activity tracking and step counting
-Weight and BMI tracking
-Beautiful trend displays for your steps, calories and weight
-Auto-sync your steps and calories to your MyFitnessPal account
Pacer Pedometer is totally free to use. Before you go out and spend your money on an expensive device like a Fitbit, try Pacer first!
Screenshots
What's New
Hi there Pacer Community!
Here are the new features we have brought in with this version:
1. A better 'Me' page design that help you to see your data more clearly and easily! Btw, we had moved the 'Insights' cell to the right of the Most Steps in a Day cell.
2. A brand new 'Message Center' on the top right of each page, and this will become your center for all messages from Pacer community and your AI Weight Loss Coach. You can always turn the message notifications on/off at any time.
Permission
Version p2.10.0 can access:
precise location (GPS and network-based)
read phone status and identity
read the contents of your USB storage
modify or delete the contents of your USB storage
read the contents of your USB storage
modify or delete the contents of your USB storage
read phone status and identity
receive data from Internet
pair with Bluetooth devices
access Bluetooth settings
run at startup
full network access
view network connections
read Google service configuration
prevent device from sleeping
Size: 11 MB
Version: p2.10.0
SPONSORED