Rockmelt: Best of Web & News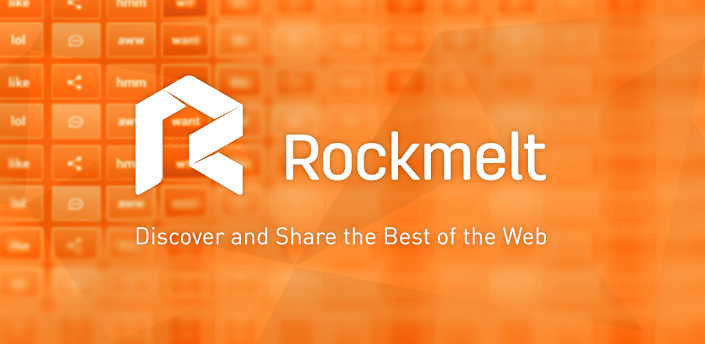 Description
Rockmelt puts the best of the web, news, and blogs at your fingertips – now completely customized for Android phones and tablets. Personalize Rockmelt to discover and share the most viral, newsworthy, cute, interesting, and otherwise awesome stuff. You'll find the best pictures, videos, and stories faster and finding new sites to love will be a cinch. You'll be so on top of the news that you feel psychic. Soon, you'll run faster, jump higher, be cooler, and Internet better!Rockmelt makes the web:
-Faster: Renders stories, pictures, and videos quickly
-More beautiful: Streams image-rich content, infinitely
-Personalized: Pushes your favorite content to you, makes it easy for you to discover more sites to love, and easily add in your own sites
-Ad free: Read your favorite sites in clean, ad-free reader view
-More searchable: Search the web and all your own sources at the same time for perfect, personalized results
-Timely: Be the first to discover viral news and more
-Social: Discover great content and share it with friends within and outside of Rockmelt – post to Facebook, Twitter, and beyond
——————————————–
Praise for Rockmelt from fans:
SPONSORED

-"It's great for the news you want. Fun to use, and much easier than having to fold a newspaper and turn its pages. Who wants to turn pages anyway?"
-"I find myself discovering new content that I would normally miss."
-"This is the future of web browsing for sure."
——————————————–
Here's what the experts have to say about Rockmelt:
-"well worth checking out" – USA TODAY
-"it's effective, efficient and addictive" – TIME
-"surfs the web so you don't have to" – NEW YORK TIMES
-"a better way to browse" – TECHCRUNCH
-"clever design touches" – FAST COMPANY
——————————————–
Support for Ice Cream Sandwich (Android 4.0) and greater. Optimized for 4" phone, 7" tablet, and 10" tablet devices. This app is in English only but it's easy to add in any site that has an RSS feed. Navigate to the site and tap on the + icon to follow it.
Keep the experience going while you're on your laptop at rockmelt.com. Follow us on Google+, @Rockmelt on Twitter, and on Facebook.com/rockmelt. We love hearing from you so don't hesitate to drop us a note at [email protected].
Love Rockmelt? Give us a review!
App Screenshots
Videos
What's New
What's in this version:
Version 1.0.4
– Performance improvements
– General bug and crash fixes
Version 1.0.2
– Google Reader Import – import your reader feeds from the left edge
– Addressed elevator button sensitivity
– Fixed Android 4.0 specific issues
Version 1.0.0
– Navigation appears when it's needed and disappears when it's not
– Elevator buttons to ensure that you get new content and go right back to where you left off
– Landscape and portrait views
– Plus all the stuff that makes Rockmelt great
Permissions
THIS APPLICATION HAS ACCESS TO THE FOLLOWING:
YOUR ACCOUNTS

USE ACCOUNTS ON THE DEVICE

Allows the app to request authentication tokens.

NETWORK COMMUNICATION

FULL NETWORK ACCESS

Allows the app to create network sockets and use custom network protocols. The browser and other applications provide means to send data to the internet, so this permission is not required to send data to the internet.

PHONE CALLS

READ PHONE STATUS AND IDENTITY

Allows the app to access the phone features of the device. This permission allows the app to determine the phone number and device IDs, whether a call is active, and the remote number connected by a call.

STORAGE

MODIFY OR DELETE THE CONTENTS OF YOUR USB STORAGE

Allows the app to write to the USB storage.

YOUR SOCIAL INFORMATION

READ YOUR CONTACTS

Allows the app to read data about your contacts stored on your device, including the frequency with which you've called, emailed, or communicated in other ways with specific individuals. This permission allows apps to save your contact data, and malicious apps may share contact data without your knowledge.
YOUR ACCOUNTS

FIND ACCOUNTS ON THE DEVICE

Allows the app to get the list of accounts known by the device. This may include any accounts created by applications you have installed.

DEVELOPMENT TOOLS

READ SENSITIVE LOG DATA

Allows the app to read from the system's various log files. This allows it to discover general information about what you are doing with the device, potentially including personal or private information.

NETWORK COMMUNICATION

VIEW NETWORK CONNECTIONS

Allows the app to view information about network connections such as which networks exist and are connected.

VIEW WI-FI CONNECTIONS

Allows the app to view information about Wi-Fi networking, such as whether Wi-Fi is enabled and name of connected Wi-Fi devices.

RECEIVE DATA FROM INTERNET

Allows apps to accept cloud to device messages sent by the app's service. Using this service will incur data usage. Malicious apps could cause excess data usage.

SYSTEM TOOLS

TEST ACCESS TO PROTECTED STORAGE

Allows the app to test a permission for USB storage that will be available on future devices.

AFFECTS BATTERY

PREVENT DEVICE FROM SLEEPING

Allows the app to prevent the device from going to sleep.
VERSION:1.0.4.41
SIZE:12M
SPONSORED