Star Wars™ Galaxy of Heroes
Description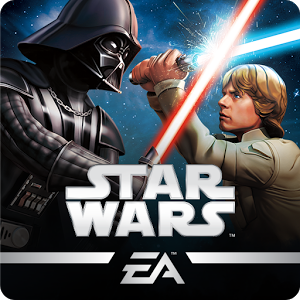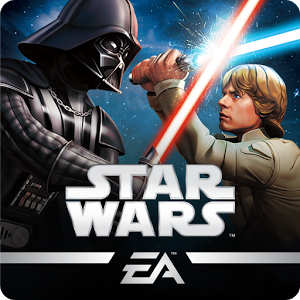 Collect your favorite Star Wars characters, like Luke Skywalker, Han Solo, Darth Vader, and more, from every era – then conquer your opponents in epic, RPG-style combat. Build mighty teams and craft the best strategy to win battles across iconic locations to become the most legendary hologamer in the galaxy!CREATE YOUR ULTIMATE TEAM
Build powerful light and dark side teams with both Jedi and Sith heroes and other characters from the Star Wars universe. Make strategic choices and pick characters with complimentary abilities to construct squads and engage in RPG combat like never before!
COLLECT ICONIC HEROES
Collect characters from the original trilogy and prequel films, plus animated TV shows like Star Wars: The Clone Wars and Star Wars Rebels – and more. True to the RPG genre, each new hero has multiple powerful attacks and abilities!
TRAIN POWERFUL CHAMPIONS
Make tactical decisions and equip your characters, from Darth Vader and Boba Fett – to Lando Calrissian and Leia Organa, with powerful gear to enhance their damage. Unlock special leader abilities to buff your team and unleash moves like Darth Sidious's Force Lightning, Chewbacca's Wookiee Rage, and more.
SPONSORED

FIGHT IN LEGENDARY LOCATIONS
Complete epic missions on Hoth, Bespin, Tatooine, Coruscant, and beyond. Unlock special characters to play through in light and dark side campaigns
Collect to conquer!
Terms of Service: http://www.ea.com/terms-of-service
Privacy and Cookie Policy: http://privacy.ea.com
Game EULA: http://tos.ea.com/legalapp/mobileeula/US/en/GM/
Visit https://help.ea.com/ for assistance or inquiries.
Important Consumer Information: The app requires acceptance of EA's Privacy & Cookie Policy, TOS and EULA; contains advertisements for EA and its partners; collects data through third party analytics technology (see Privacy & Cookie Policy for details); contains direct links to the Internet and social networking sites intended for an audience over 13; EA may retire online features and services after 30 days' notice posted on www.ea.com/1/service-updates
Screenshots
What's New
Welcome to the cantina – we've made a few behind-the-scenes adjustments to keep you dominating the holotables more smoothly than ever. Update now!
Permission
find accounts on the device
find accounts on the device
modify or delete the contents of your USB storage
read the contents of your USB storage
modify or delete the contents of your USB storage
read the contents of your USB storage
receive data from Internet
full network access
view network connections
control vibration
prevent device from sleeping
 Size: 33MB
Version: 0.2.113720
SPONSORED