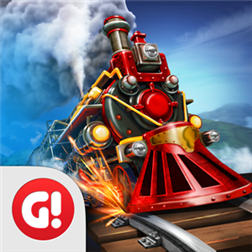 Description
Game Insight, a company that has developed hit games including Airport City and The Tribez, is happy to present a captivating business simulator for mobile platforms!
* An eye-catching adventure set in the Victorian era (Appszoom.com)
* It's a re-imagining of the classic Tycoon-style games (148apps.com)
* If you enjoy casual, city building games, that focus on economics more than battles, download Transport Empire and see if you can become a rail tycoon (Appreviewcentral.com)
SPONSORED

Transport Empire is a captivating economic strategy game inspired by the Victorian Era and a little bit of steampunk. Dispatch trains, steamboats and airships, build roads and mines and develop cities to enjoy absolute monopoly of the country's transportation sector. Earn the respect and love of the locals while avoiding the sinister machinations of enemies and rivals. Put your economic skills to use and become the powerful business tycoon!
Key features:
– This game works in offline mode without Internet – play it on the plane, in subway or on the road. Enjoy!
– Beautiful intricate graphics – an economic strategy game like you've never seen before
– Three types of vehicles: trains, steamboats and airships
– The opportunity to develop transportation as well as tons of unique cities
– Amazing characters with compelling life stories
– Fascinating storyline – contend with competitors, cast light on conspiracies, hunt treasure, find ghosts, embark on expeditions to distant lands and so much more!
Minor bug fixes, some technical improvements.
App Screenshots
Info
App requires
data services
internet connection
photos library
home or work networks
HD720P (720×1280)
WVGA (480×800)
WXGA (768×1280)
Supported languages (6)
DeutschEnglishespañolfrançaisitalianoрусский
SPONSORED