Simpy Clean.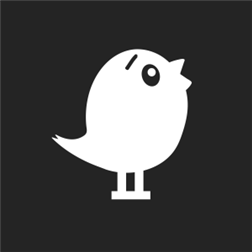 Simply Powerful.
"Tweet It!" is a top Twitter client app for Windows Phone!
Combining beautiful animations, clean UI and powerful features giving you full Twitter experience.
Reimagine your timeline with support of inline images, YouTube video preview, powerful gestures and tons of features like "Street Mode".
Post your thoughts instantly! Don't worry about long links! They will no longer take more than 23 characters of the tweet.
Post what you are currently listening with "#nowplaying" feature.
SPONSORED

Search tweets and see current trends. Browse your lists.
Do it more quicker with pinable tiles!
Sounds great, doesn't it? Try it yourself!
Screenshot
Info
Publisher
My Amazing Big Fork
App

requires
phone

identity

owner

identity

video

and still capture

location

services

maps

media

playback

microphone

data

services
Proximity

movement

and directional sensor

speech

HD720P (720×1280)
WVGA (480×800)
WXGA (768×1280)
Supported languages (2)
English (United States
)
русский
SPONSORED