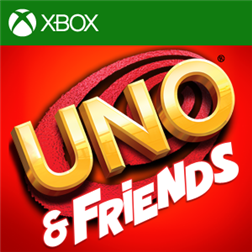 Description
This game allows multiplayer play and is not subject to Xbox Live Family Settings. Microsoft shares User IDs and gamertags.
UNO & Friends: Fast Fun for Everyone!
UNO, the world's most beloved card game, introduces a brand-new free social experience!
Playing UNO with friends, family, and millions of fans worldwide has never been easier! Join one of the largest free online mobile gaming communities and enjoy an all-new free multiplayer experience, competitive leaderboards and fun customization options that let you shout "UNO!" on a whole new level!
SPONSORED

GAME FEATURES:
✜Easy to learn, difficult to put down!
✜Create games and invite your friends to play!
✜Challenge millions of UNO fans worldwide!
✜Utilize Boosts & Super Boosts to diversify your strategy!
✜See how your card skills rank on the leaderboards!
✜Compete in weekly contests to win rewards!
✜Customize your UNO game with backgrounds, card deck designs & special effects!
✜Play online multiplayer matches over 3G or Wi-Fi!
_____________________________________________
Visit our official site at http://www.gameloft.com
Follow us on Twitter at http://glft.co/GameloftonTwitter or like us on Facebook at http://facebook.com/Gameloft to get more info about all our upcoming titles.
Check out our videos and game trailers on http://www.youtube.com/Gameloft
Discover our blog at http://glft.co/Gameloft_Official_Blog for the inside scoop on everything Gameloft.
If you install this game, you understand and agree that Microsoft may share your User ID and gamertag with the game publisher to enable game features. This game includes multiplayer features with online interactions that are not subject to Xbox Live Family Settings. These features may include the following interactions with other players online:
• Send and receive game invites;
• Play cooperatively or head-to-head;
• Send and receive in-game text messages;
• Communicate via in-game voice chat.
Please see the publisher's site http://www.gameloft.com/privacy-notice/windows8/ for information on settings it may enable.
Play our NEW MODE… if you dare!
√ Enjoy a new twist with a NEW MODE: UNO Dare! Available for a limited time only! Skip drawing cards whenever a Draw 2 card is played — but only if you accept the Dare!
√ Collect wacky NEW AVATARS in UNO Dare to receive special bonuses whenever you have them equipped, in any mode!
√ Get the chance to multiply your rewards or WIN EXCLUSIVE REWARDS by spinning the UNO Dare wheel at the end of each UNO Dare game!
App Screenshot
Info
Works with
Windows Phone 8.1
Windows Phone 8
App requires
Xbox
phone identity
owner identity
music library
media playback
data services
push notification service
movement and directional sensor
web browser component
HD720P (720×1280)
WVGA (480×800)
WXGA (768×1280)
Supported languages (14)
العربيةDeutschEnglish (United States)Español (España, alfabetización internacional)françaisBahasa Indonesiaitaliano日本語한국어português (Brasil)русскийTürkçe中文(简体)中文(繁體)
SPONSORED