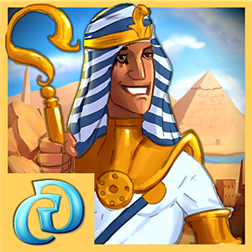 NEW VERSION IS HERE! -FULL GAME UNLOCK BUG HAS BEEN FIXED! WE APOLOGIZE FOR INCONVENIENCE!
SPONSORED

Return to the golden realm of ancient Egypt in this challenging strategy game: Fate of the Pharaoh!
TRY IT FREE, THEN UNLOCK THE FULL ADVENTURE FROM WITHIN THE GAME! NOW 50% OFF THE PRICE!!!
The glorious Egyptian empire is left exhausted after a longstanding war. The greedy invaders fled, leaving chaos and ruins of a once magnificent kingdom. Become the loyal Pharaoh's adviser and help him to restore peace and prosperity in the golden cities of Egypt. Construct houses and beautiful castles, collect taxes and materials, set up production and trade, and fight crocodiles and wicked cobras. Can you return Egypt to its days of glory?
● 44 amazing levels to pass
● 9 riveting chapters
● 9 desirable achievements to earn
● Engaging in-game encyclopedia
Publisher
K.I.D. d.o.o.
Content rating
EVERYONE
App

requires
phone

identity
HD720P (720×1280)
WVGA (480×800)
WXGA (768×1280)
Supported languages (11)
DeutschEnglishespañolfrançaisitaliano日本語한국어Portuguêsportuguês (Portugal)русский中文
SPONSORED