Description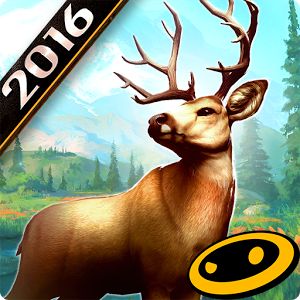 From the creators of Deer Hunter 2014! Return to the wild and hunt across the globe in the world's greatest hunting experience.
HUNT AROUND THE WORLD
Pursue trophies in unique and beautiful locations that span the globe from Alaska to Zimbabwe.
BAG BIG GAME ANIMALS
Hunt animals so real they nearly jump off the screen! Track down and bag the world's most exotic and elusive game.
SHOOT LIKE A PRO
Develop a steady hand, line up your sights, and master the skills to take the perfect shot.
GET THEM BEFORE THEY GET YOU
Take down predators before you become the prey.
COLLECT TROPHIES
Compete for bragging rights and bag the biggest animals with achievements and leaderboards!
BUILD YOUR ARSENAL
Collect and customize your firearms with scopes, magazines, barrels, and stocks as you perfect your weapons for each hunt.
High-end, immersive tablet gameplay!
It's Open Season – join the hunt today!
Deer Hunter 2016 is free to play, but you can choose to pay real money for some extra items.
SPONSORED

Use of this application is governed by Glu Mobile's Terms of Use. Collection and use of personal data are subject to Glu Mobile's Privacy Policy. Both policies are available at www.glu.com. Additional terms may also apply.
FOLLOW US at
Twitter @glumobile
facebook.com/glumobile
Screenshots
What's New
Bug fixes and other improvements to game performance
Permission
Version 2.0.4 can access:
approximate location (network-based)
read phone status and identity
modify or delete the contents of your USB storage
read the contents of your USB storage
modify or delete the contents of your USB storage
read the contents of your USB storage
read phone status and identity
full network access
view network connections
control vibration
run at startup
Google Play license check
prevent device from sleeping
Size: 39 MB
Version: 2.0.4
SPONSORED