Description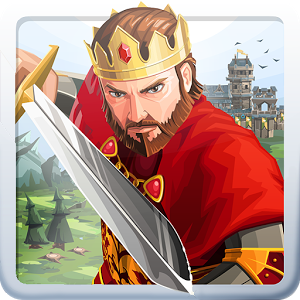 Fight epic battles, win glorious victories, and form powerful alliances with thousands of other players on a giant interactive world map.
Conquer new lands in four exciting kingdoms: recruit an army of valiant knights, produce deadly weapons to equip your merciless troops, and send them into battle to fight under your banner! Of course every great empire also needs a strong defense – choose the right strategy to send your enemy's army fleeing in terror!
Honor, glory, and riches! Win rewards by achieving honor and glory in battle, and go from rags to riches by managing your kingdom with a wise strategy. Produce resources and trade with other players to expand your empire in multiple kingdoms.
This medieval strategy MMO will transport you back to an age when power was everything and only the strongest survived.
SPONSORED

♚ Fight epic battles against countless other players on the interactive world map
♚ Build a majestic castle to withstand even your strongest opponents
♚ Form an unbeatable alliance with your friends and other powerful players
♚ Produce and trade resources to construct more than 60 different buildings
♚ Choose the right strategy and produce deadly weapons
Screenshots
What's New
BRAND NEW GEMS
Head into battle and loot shiny gems from robber barons to improve your equipment! Hold your weapons high and look forward to receiving gems as a reward! You will loot gems or equipment randomly during attacks and once attached to your armor, these gems will give you awesome effects.
GEM CRAFTING
Enhance new gems in the smithy and use coins to increase the success rate. Improve them up to level 10 and increase your power!
Permission
This app has access to:
read phone status and identity
modify or delete the contents of your USB storage
read the contents of your USB storage
modify or delete the contents of your USB storage
read the contents of your USB storage
read phone status and identity
receive data from Internet
control vibration
full network access
view network connections
Size: 42 MB
Version: 1.28.104
SPONSORED