Simple Drums Deluxe – Drum Set
Description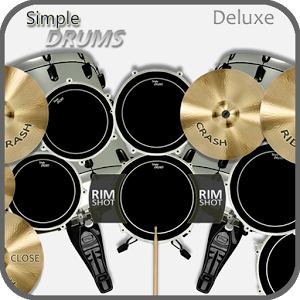 Simple and Fun. Simple Drums Deluxe comes with five different full drum set, and with 32 Rock, Metal, Blues and Jazz jam tracks! You can also play to your own MP3 tracks – simply by tapping on the play button and choosing MP3, then selecting from the tracks on your device. Mixer lets you customize and adjust your volumes, you can even add hall or room reverb. Really easy and simple to use. Quick response time. Supports multi-touch.
Jam out with Simple Drums Deluxe today!Features:
– Support Multi-touch.
– 24 realistic percussion sounds.
– 32 jam tracks.
– 5 different real drum set.
– Reverb FX, Hall & Room.
– Realistic graphic.
– Jazz brush Kit.
– Simple and easy to use.Instruments: Bass, Snare + (Rim shot), 5xTomTom, Hi Hat (open & close),
Cymbals (crash + (choke), ride +(Bell), china, splash), Cowbell and snare "side stick".
SPONSORED

Screenshots
What's New
Play MP3 Button added.
New Drum Set added.
Jazz brush Kit added.
Master/Drums volume control added.
18 New Jam Tracks added.
Jam Track fix.
Eu consent policy added.
Cymbals sound improved.
Room & Hall Reverb added.
Rotate screen fix.
New Drum Set added.
Permission
Version 1.2.5 can access:
full network access
view network connections
Size: 17 MB
Version: 1.2.5
SPONSORED