TERMINATOR GENISYS GUARDIAN
Description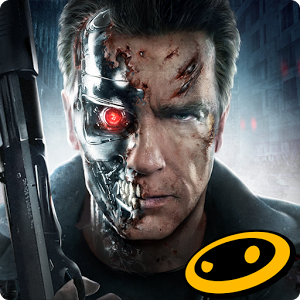 The year is 2028 and humanity is on the brink of extinction. Help John Connor in the war to save the human race in the official game of the new movie Terminator Genisys. Escape from the Skynet prison camp and fight the machines in this action-packed sci-fi shooter!EXPLOSIVE THIRD-PERSON SHOOTER
• Hundreds of missions to choose from!
• Battle your way through stunningly rendered, post apocalyptic locations
• Use your tactical prowess against a wide range of deadly enemies
• Easy to use, responsive mobile controlsADVANCED CUSTOMIZABLE WEAPONRY
• Amass a wide variety of present day and futuristic weapons
• Switch between Shotguns, Assault Rifles, and Sniper Rifles and take control of the battlefield
• Level up your weapons with High Explosives, Depleted Uranium, Plasma, and Electrical munitions
• Use Rockets, Grenades, and EMPs against the enemy
RISE THROUGH THE RANKS
• Join the Resistance and get promoted to higher ranks
• Fight alongside key Resistance members from the film
• Immersive storyline written by world renowned sci-fi writer Dan Abnett
High-end, immersive tablet gameplay!
See Terminator Genisys in Theatres this July. www.terminatormovie.com.
© 2015 Terminator Genisys: Guardian, owned by Skydance Productions, LLC. All rights reserved.
© 2015 Terminator Genisys, owned by Skydance Productions, LLC. All rights reserved.
Software and game design © 2015 Glu Mobile Inc. All rights reserved.
SPONSORED

Terminator® Genisys™ is a trademark of StudioCanal S.A. All rights reserved. SKYDANCE PRODUCTIONS® and the Skydance logo are the registered trade marks or trademarks of Skydance Productions, LLC in the United States and other jurisdictions. All rights reserved. GLU and the "g-Man" logo are the trademarks or registered trademarks of Glu Mobile Inc. in the United States and/or in other jurisdictions.
Terminator Genisys: Guardian is free to play, but you can choose to pay real money for some extra items.
Use of this application is governed by Glu Mobile's Terms of Use. Collection and use of personal data are subject to Glu Mobile's Privacy Policy. Both policies are available at www.glu.com. Additional terms may also apply.
Screenshots
What's New
• Buy the all new Guardian Pack to play as the Terminator: Arnold Schwarzenegger himself!
• Immerse yourself with new voice acting from Arnold Schwarzenegger!
• Wield iconic Terminator heavy weapons: Minigun, Rocket Launcher, and the Classic Shotgun
• Try playing as the legendary Terminator in new exciting missions!
• Build up your Resistance Base and defend against Skynet invasions!
• Equip new gear! 6 new helmets and 3 new armors just added!
• Take on the new LAX region in the Campaign!
Permission
Version 3.0.0 can access:
find accounts on the device
find accounts on the device
approximate location (network-based)
read phone status and identity
modify or delete the contents of your USB storage
read the contents of your USB storage
modify or delete the contents of your USB storage
read the contents of your USB storage
read phone status and identity
full network access
view network connections
control vibration
run at startup
Google Play license check
prevent device from sleeping
Size: 13 MB
Version:3.0.0
SPONSORED